The Spectre's Bride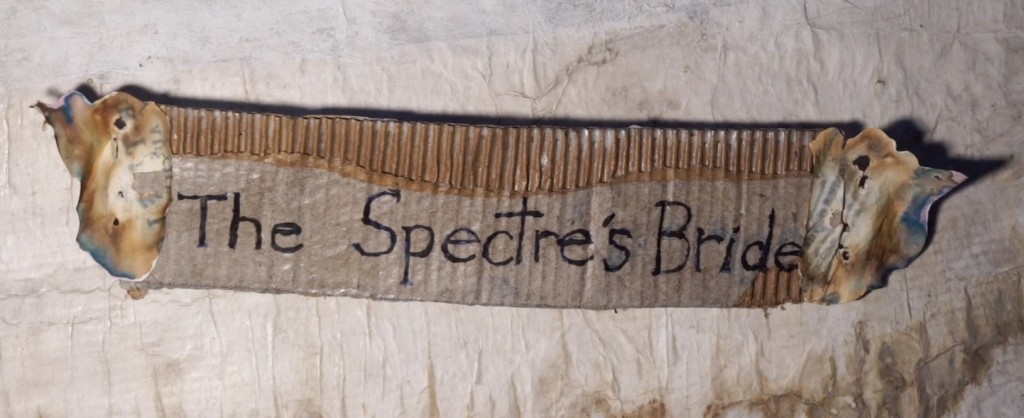 In 1883 Dvorak received a commission from England to write a major vocal-instrumental work which was to be performed at the music festival in Birmingham. Dvorak agreed to the commission. He had spoken to his librettist Marie Cervinkova-Riegrova of his intention to write an oratorio based on a theme taken from Czech history. He had, for instance, considered the story of St Wenceslas or Jan Hus but, in the end, he turned to the literary works of K. J. Erben, from whose Bouquet he chose the ballad The Spectre's Bride. He worked on his composition from April to November 1884 and the cantata was published by Novello the following year.
Antonin Dvorak to his friend Alois Gobl:

"I am delighted that my new work is coming along so well; I plan to finish the sketch this week and the rest should go like clockwork. I thank God that my guardian spirit hasn't abandoned me; and why would he, when I'm so fond of him. I think (and you'll see I'm not deceiving myself) that this work surpasses all my others in every respect, including Stabat. But I ask you not to mention this to anyone, I wouldn't want people to think I'm blowing my own trumpet! – you know me."
DVORÁK: The Spectre's Bride
Chorus
The clock had chimed eleven hours, and still the lamp was burning bright;
And still the lamp, amid the gloom, above the prayerstool shed its light.
There in the humble dwelling place, Mary the Virgin's picture hung,
Mary with Jesus in her arms, Mary the rose, the bud her Son.
Before the Holy Virgin Saint, kneeling in prayer was seen a maid,
Kneeling in prayer with head bowed low: over her breast her arms were laid.
Teardrops were welling from her eyes, her bosom heaved, so sad her plight,
And when a tiny teardrop fell, it trickled down her bosom white.
Soprano
Woeful am I! Where is my father?
Beneath the grass so green he stays!
Woeful am I! And my mother dear, oh where, where is she?
She followed him, beside him lays.
I lost my dear sister when she was one year old;
Warfare cut short my brother's days.
My sweetheart made me sorrowful; for him I'd die so willingly.
He turned away to foreign lands, and he has not returned to me.
Bidding farewell, abroad he went, but first he wiped my teardrops away,
Then said, "Flax, my beloved, you must sow; think of me fondly ev'ry day!
Then in the first year spin the yarn, then bleach the cloth the second year,
Then embroider the wedding gowns; think of me ev'ry day anew!
When the sewing has all been done, make a garland entwined with rue."
Long past were sewn the wedding gowns, folded and in the chest have lain;
Now my poor wreath is withering, while I await my love, my love in vain.
Still in the wide world he remains, sunk like a pebble in the sea.
Three years and still no tidings yet; God only knows where he may be.
Hail Virgin Mary, Thou Almighty Saint! Help, I implore thee, in my distress!
Bring my beloved back to me! From him alone springs happiness;
From distant lands bring back my love, or take my life so full of care.
My life with him bloomed like a flower; this misery I cannot bear.
Mary, Sweet Mother full of Grace, in my distress, pray, grant my prayer!
Chorus, Baritone, Tenor
The picture moved upon the wall; the maiden shrieked at such a sight.
The lamp that dimly burned nearby, spluttered and left her without light.
But was it just a gust of wind, or evil omen for that night?
But hark! Outside some footsteps rang,
And on the window: bang, bang, bang.
Are you asleep, love, are you awake?
Ho! I have come, love, for your sake.
What are you doing, my sweet maid?
Tenor
Ho, I have come, dear, for your sake. What are you doing, my sweet maid?
And do you still your lover know, or do you love another now?
Soprano
Oh darling, oh think of you; this hour for you, my love, I've prayed!
Tenor
Stop praying! Quickly now, get up, for you must travel at my side.
Moonlight up on our road now gleams, I came tonight to fetch my bride.
Soprano
For God's sake, what is that you say? Where would we go, for it is late!
Fierce howls the wind, the night is wild. Soon dawn will break, oh let us wait!
Tenor
Ho, day is night, and dark is light, and sleep shuts my eyes when 'tis day!
Ere crowing cocks announce the dawn, I am compelled to make you mine.
So come at once without delay, for you shall be my bride today!
Baritone and Chorus
This was the hour of deepest night, silvery moon was riding high.
The village slumbered, all was still, save for the wind that thundered by.
With bounds and leaps he led the way, behind him close she strove to stay.
The village dogs howled piteously, on scenting travelers were nigh.
'Twas something strange that made them howl: there was a dead man passing by!
Tenor
Fine night and clear: in times like this, rising from tombs the spectres rove,
And in a trice are close at hand: so are you not afraid, my dear?
Soprano
Why be afraid, for you are here! God watches and I do not fear.
My darling, tell me, tell me now, how is your father? Does he thrive?
And will your dear mother be glad to welcome me when I arrive?
Tenor
You must not ask so much, my dear; now follow quickly, soon you'll know.
Come quickly, for our time is short, and we have many miles to go!
But what is that in your hand, my sweetheart so fair!
Soprano
These are my precious books of prayer.
Tenor
Throw them away, lighten your step, our time is short!
Those prayers I dread, they're heavier far than lumps of lead!
Come quickly now, our time is short, follow me close for you are slow!
Baritone and Chorus
Seizing her books, he threw them far: they quickly covered ten miles more.
They went through regions mountainous, past cliffs and through deep forest dark.
Among the willows from the cliffs resounded savage bitches bark,
And screeching so that all could hear, an owl foretold disaster near.
I sense disaster, screeched an owl.
With bounds and leaps he led the way;
Behind him close she strove to stay.
And over briars and cruel rocks her slender white feet often trod.
On hawthorns and on jagged flints some signs were seen of drops of blood.
Tenor
Fine night and clear; at such a time beside the living walk the dead,
And suddenly are close to you; sweet lass, are you not filled with dread?
Soprano
Why be afraid, for you are here; the hand of God dispels all fear.
Pray tell me, dear one, what is the house like where you live?
Say, is it little and clean and gay? And does the church stand very near?
Tenor
You must not ask so much, my dear; you'll see what it is like today.
Come quickly, for our time is short; we've far to go ere break of day.
Upon your belt, dear, what do I see?
Soprano
Darling, I brought my rosary.
Tenor
That rosary of bladdernut just like a snake will you enwreathe.
Throw it away, we must make haste! Its coils will make it hard to breathe.
Baritone and Chorus
Seizing the beads these too he threw; another twenty miles they flew.
Their path led over lowland now, o'er stream and river, fen and field.
And over the ravine there shone some little lights that danced and reeled:
A double row of nine blue lights, as if they bore a coffin by;
While frogs, the streamlet's slimy pests, croaked out their solemn threnody.
Still leading, he went bounding past; her step began to weaken fast.
Like sharp-edged knives the cats-tail grass her weary legs then cut and slashed.
And thus the green and gracious ferns with blood of hers were tinged and splashed.
Tenor
Fine night and clear: at such a time people are hast'ning to their doom,
Suddenly Death stands at your side. My sweet love, don't you fear the tomb?
Soprano
I'm not afraid, when with my love! I trust the Will of God above.
Please will you walk more slowly, dear, just give yourself a little rest.
My strength is failing, my legs give way, and I feel knives that stab my breast.
Tenor
Just hurry on a little more, our goal at no great distance lies.
The feast's prepared, the guests are there and, as a bullet swift, time flies.
But round your neck what do I see, upon that tape, what can it be?
O ho! That cursed cross of gold, how keen its points and edges are!
They stab us both, so it must go; then wings like eagles you will bear.
Baritone and Chorus
Then the cross he hurled away; soon thirty miles behind them lay.
There on a broad and open plain a lofty building they espied.
Its windows tall were narrow too, the turret had a bell inside.
Tenor
Ho, my sweet lassie, here we are! So, is there naught this vista shows?
Soprano
Oh, God above, that church perhaps? That graveyard with the tombs in rows?
Tenor
No church is that, 'tis my castle fine; nor tombs, but fruit trees in a line.
Ho, my sweet lassie, look at me, leap o'er this wall so cheerfully.
Soprano
Oh let me be, leave me alone! How wild and terrible you've grown,
How venomous your acrid breath, your heart is frozen like a stone!
Tenor
Darling, pray don't have any fear; cheerful's my nature, always gay.
Plenty of flesh, but not with blood; all will be new and changed today.
What have you in your bundle, dear?
Soprano
There are the wedding shifts I've sewn.
Tenor
Two are sufficient for us both, one for your bridegroom, one your own.
Chorus
He tossed the bundle with a laugh, onto a grave beyond the wall.
Tenor
Don't be afraid, dear, look at me; now leap into the cemet'ry.
Soprano
You always went in front of me; I followed on that evil way,
And all that time you guided me. Show me the way again, I say!
Baritone and Chorus
One leap and he had cleared the wall, for he no treachery had feared.
A giant leap of thirty feet, meanwhile the maiden disappeared.
Her clothing white was seen to gleam for just a moment as she ran;
Her hiding place was close at hand. Thus she had tricked the evil man!
A little building stood nearby, a low door with a bolt and slot.
The door creaked as she pulled it to; she shut it fast, the bolt she shot.
The room was spare and windows lacked, through chinks the moon shone fitfully.
The room was solid as a cage, and on a plank a dead man lay.
Oh, what an uproar could be heard, from graveyard fiends of ev'ry kind,
Rattling and murmuring outside, this was the fearful song they whined:
A body soon will be entombed, and woe to you whose soul is doomed!
The door resounded: bang, bang, bang; the evil man impatient grew.
Rise up, rise up, O dead one, rise, get up, for thou must now this bolt undo.
The dead man opened both his eyes and rubbed them when he heard the shout.
He moved a little, raised his head, and turning slightly, looked about.
Sacred God! Oh help sustain me and put me not in Satan's power.
You dead one, don't attempt to rise; may God grant peace to you this hour!
The corpse obeyed and dropped his head. He closed his eyes and lay as dead.
Again the knocking bang, bang, bang, he knocked more fiercely than before.
Rise up, oh dead one, get up; unfasten thy door.
The clamor and the dreadful din disturbed and roused the corpse once more.
He moved a poker arm towards the fastened bolt upon the door.
Oh save me, save me, Jesus Christ! Be merciful and hear my plea!
You dead one, don't attempt to rise; may God grant grace to you and me!
Immediately the dead man sank and stretched his limbs upon the plank.
And yet a third time: bang, bang, bang; the din was more than she could stand.
Rise up, dead one, ho, ho, ho! Hand out the live one, I command.
Oh woe betide the maiden now! Once more the dead man raised his head,
With his large dim eyes he stared straight at the maid, by then half dead.
Soprano
Hail Virgin Mary, stand by me, with thy dear Son, pray, intercede!
For I was wicked, yes, I was wicked then, grant me forgiveness, oh forgive!
Mother bountiful, protect me from the powers of Hell,
Oh protect me from the devil! I need thy help; by evil powers I am beset.
O Virgin Mary, stand by me!
Baritone and Chorus
But hark! a sound from close at hand, a village cock began to crow.
And all the cocks from far and near joined in, and made the chorus grow.
The dead man, having risen up, fell with a thud upon the ground.
The evil bridegroom and the fiends had fled, and all was still around.
When morning came all were amazed, stared as they made their way to Mass.
A yawning grave before them lay, inside the mortuary a lass.
And in the graveyard on each mound, fragments of wedding shifts were found.
Maiden, you followed good advice when you appealed to God for aid.
If you had acted differently, fearful the price you would have paid.
Your white and graceful form would be just like the wedding shifts we see!