Home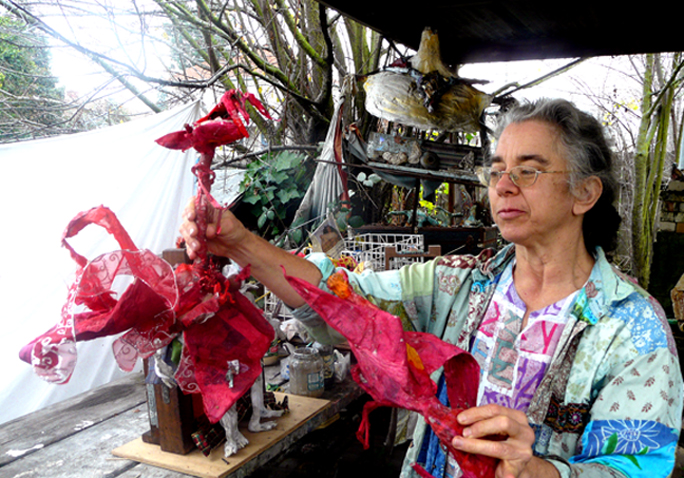 Francesca Borgatta makes puppets, exhibits, and installations. She designs activities so people can make their own art, and use it, to develop images for group interaction. Her themes examine cultural identity, sense of belonging, and the uses of art to generate communication.
A new video work by Francesca is based on Dvorák: The Spectre's Bride:

To make her art, Francesca combines re-cycled objects and materials taken from nature. To begin a puppet, she joins a few elements, to examine the interplay of qualities-shape, color, and texture, inherent in their forms. If this construct appears as a segment of a face or figure, she paints on layers of glue, adding cloth or paper to unify the surface, emphasizing aspects and adding new elements to explain its nature. If two figures seem related, she builds a scene for their encounter. She may develop text and dialogue to explain their predicament. She seeks to involve the audience, stating a situation with which people can identify, asking them to manipulate puppets or other things, to reflect on their experience.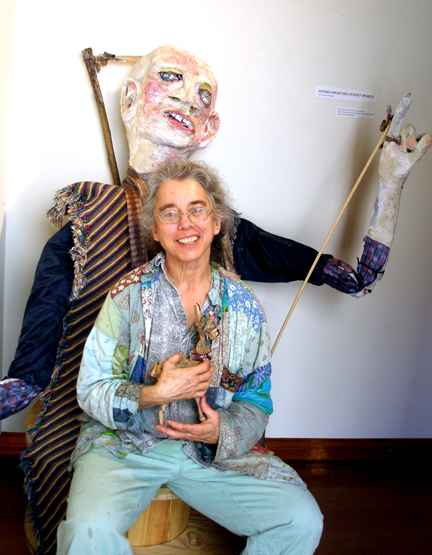 Biography
The daughter of Robert Borgatta, painter, and Isabel Borgatta, sculptress, art is central to Francesca's experience. She directed her first dance-drama at age sixteen. She studied art and theater at Sarah Lawrence, and apprenticed to the Bread & Puppet Theater in N.Y.
With Inter-Action Theater (London 1969), she worked with teenagers on Adventure Playgrounds, using Gulliver and the Tempest as themes for installation and performance. This is her model of a successful socially-directed arts project, evolving in a community.
In 1971, she saw T. Balasaraswati perform Bharatanatyam, and she became a student of South Indian dance and music for the next fourteen years. She formed "Drum, Song, and Dance Co." with other students of Asian Dance to explore personal imagery in a cultural context. She received an M.A. in Multimedia Theater from S.F. State 1986.
As Artist-in-Residence, (with grants from California Arts Council, BSEP, In Dulci Jubilo and Packard Foundation) Francesca developed multi-cultural arts programs at S.F. Montessori, Washington, and Longfellow schools. She participates in many group art shows and has presented solo exhibits at Bridge Art Gallery, Sidequest Art Gallery, Saint Vincent de Paul Community Center, and Skyline College Gallery.
Francesca Borgatta designs art events using recycled materials for East Bay Depot of Creative Re-Use as she searches for new places to teach and exhibit her work.
Resume is available on request.