In Celebration: Word and Image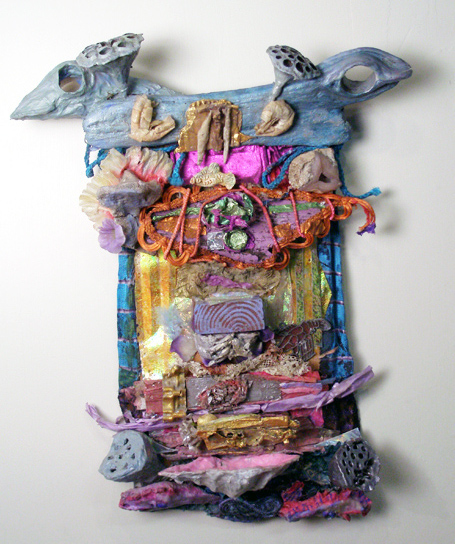 Francesca Borgatta uses language in conjunction with her artwork to tell stories and examine familiar assumptions. In this exhibit, she presents a set of wall tablets to describe the interaction of the five elements (earth, metal, water, wood, and fire) according to the Chinese traditional theory. Her dioramas use the sides of the box to explore the phases of the story, and her puppet characters are accompanied by sections of dialogue.
The McCune Rare Book Collection contains manuscripts, book-binding tools, and parts of the original Gutenberg press. Francesca Borgatta has designed this exhibit to honor the attempt to communicate through word and image.
Opening reception: Friday, March 8th from 5 pm to 9 pm, for the Second Friday Artwalk
Artist's workshop "Active Story-telling": Francesca will present a workshop in which participants will use a set of her puppets and masks to tell a story (Sunday, April 14 from 2 pm to 4 pm)
RSVP: TheMcCuneCollection@gmail.com
Where: JFK Library in Vallejo
Open:
Every Saturday in March from 12 pm to 2 pm
1st and 3rd Tuesday in March & April from 2 pm to 4 pm
Friday, March 8th, from 5 pm to 9 pm, Second Friday Artwalk
Friday, April 12th, from 5 pm to 9 pm, Second Friday Artwalk
Saturday, April 13 from 12 pm to 2 pm