In Celebration: Word and Image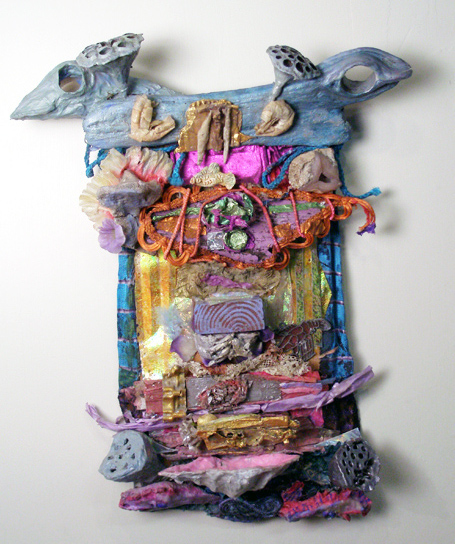 "In Celebration: Word and Image" was an exhibit at The McCune Library Gallery. Francesca Borgatta uses language in conjunction with her artwork to tell stories and to examine familiar assumptions. Two large puppets, "Soothsayer" and "Prophet", exchange their scrolls in one installation. A set of dioramas, with images on the front and back, was placed in a two-sided glass case. Each tablet from the "Five Element Series" (earth, metal, water, wood, and fire) was displayed with a poem describing the qualities of that element according to the traditional Chinese theory. (2019)
The main image above: "Water Tablet I"
Tablet Series: FIRE
In the fire, see the dance of the elements.
Wood is the mother that feeds the flame.
Fire acts on metal to forge.
Fire counteracts on water
to create a pressure, as steam.
Ash and char promote the earth to grow.
All the colors abide in the heat of fire.
Flame by flame, how fast the flickering
behind the moving curtain of the mind.
Fire gives rise to the image of the soul.
Fire-
the color is red
the taste is bitter
the emotion is joy